Nick's bio
"Nick is a complete musician, a fine guitarist, composer, producer and band leader. The paring of instruments is impressive. This is the type of CD you listen to over and over. I highly recommend it."

Jimmy Heath
Guitarist, Nick Russo, winner of the 2004 International Jazz Workshop at The BANFF Centre in Canada (director, Dave Douglas) & winner of the 2001 JAS academy in Aspen Colorado (director, Christian McBride, mentioned in Dec. 2001 issue of Down Beat magazine).
Leads a life of full-time performing, including performances at Carnegie Hall, Lincoln Center, The United Nations, Blue Note, Birdland, 55 Bar, Showman's (Harlem), Lenox Lounge (Harlem), Charles Ives Center, Tilles Center, Boom, Penne e Vino, Via Delle Zoccelette, The Patchogue Theatre, Flushing Town Hall, Cleopatra's Needle, Kavehaz, Merchants, The C-Note, The BANFF Centre in Canada, 7 weeks at Huis Ten Bosch (Sasebo, Japan), Omsk, Tomsk, Novasibersk, Akademgorodok (Academy City), and Moscow.
"Nick Russo's CD "Ro" is marvelous! I think the guitar playing is terrific, I am very impressed! I am also impressed with the variety of the record. The music is unique and it's something that's needed in general because so many jazz records sound similar. I loved the Indian Raga and the banjo playing, it was very different!"
Jim Hall
Nick Russo, guitarist/banjoist/composer has had the honor to play with Sir Paul McCartney while performing at Gwyneth Paltrow and Chris Martin's home. Nick has performed on ABC's "Good Morning America," Lincoln Center, Carnegie Hall, The U.N., internationally in Japan, Spain, Brazil, Moscow, Omsk,Tomsk, Novosibirsk, Acedemy City, St. Kitts, Bermuda and Canada. Nick plays banjo and guitar for PBS Kids "Peg + Cat,"  banjo for the new Home Depot commercial and appears in the Sam Mendes film "Away We Go" and PBS Masterpiece, "The Chaperone." Nick is also the author of Metallica Legendary Licks (series 1 & 2) and editor of various guitar instructional books for Cherry Lane Music (Hal Leonard Corp.).
Russo has been a sideman with Jon Batiste (Colbert Show and Black Lives Matter Protests), Russell Hall (Bessies & The Rainbow Kids), John Lithgow, Antonique Smith, Rob Morrow, Vince Giordano & His Nighthawks, Bria Skonberg, Frank Vignola, Jim Nolet (Jazz Passengers), late greats Jimmy McGriff, Teddy Charles, Sonny Dallas, Joe Ascione and currently plays for Jon Batiste, NYC Ballet's principe bassist, Ron Wasserman, Bill Charlap, Terry Waldo, Dandy Wellington, Miles Griffith's New Ting, Gordon Au's Grand St Stompers, New Orleans' Aurora Nealand, Mona's Hot Four, Dr. David Pleasant, Jon Weber, John Colianni, Victor Jones, Kim Clarke, Anastasia Rene, Mike Davis, Dan Levinson, Jesse Gelber, J Walter Hawles, Kimberly Hawkey & many others. Also, Nick recently performed with acclaimed actor Rob Morrow.
Nick leads 3 bands: Nick Russo+11, Hot Jazz Jumpers and Banjo Nickaru & Western Scooches.
Banjo Nickaru & Western Scooches  charted as top #2 artist, #2 album on April 2018 International Folk Radio and appeared on NBC affiliate KSHB-TV, 2017 Kansas City Folk Festival main stage, Semi formal showcase NERFA 2017, Americana Fest panel, WoodSongs, Blue Plate Special, Relix, Extended Play Sessions, The Alt. Roots, Folk Alliance International, IsIs Music Hall, Club Passim, Rockwood Music Hall, Jalopy Theatre & numerous radio stations world wide, including New York's WFUV (John Platt's Sunday Supper and On Your Radar), WNCW (North Carolina), WMOT (Nashville) and many others.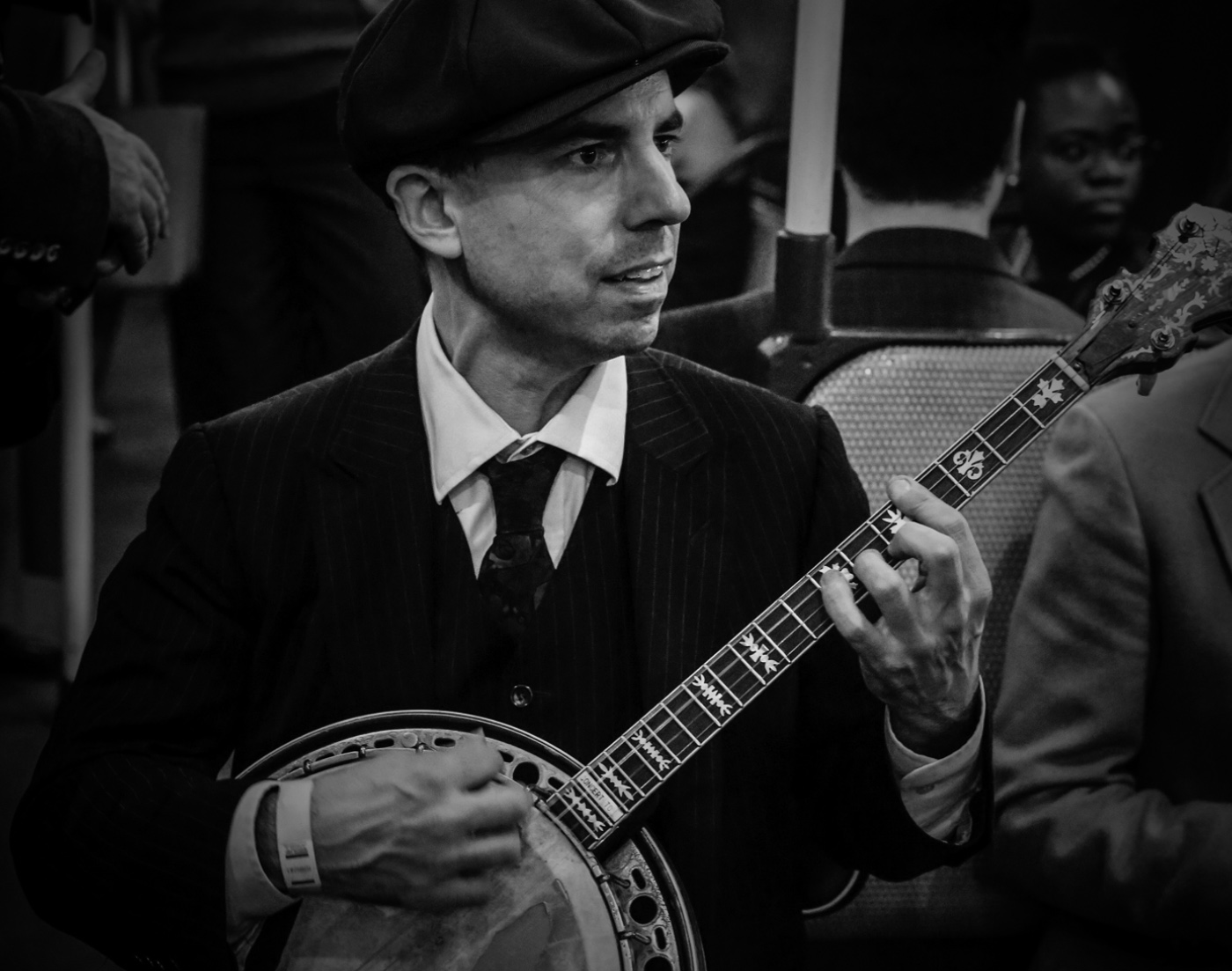 Quotes:
"If your tastes are eclectic, you'll probably enjoy Ro. There's a bit of free playing, some Indian raga and a healthy measure of straight-ahead swing. This youthful vet has already played and/or recorded with Jimmy McGriff, Eddie Henderson, Ed Schuller, Teddy Charles, Vince Giordano's Nighthawks, and the Frank & Joe Show."
Hothouse
"His approach to improvisation, featuring for the most part a warm Jim Hall-like tone, is flexible enough to feel credible whatever the context. It's no surprise that the likes of Hall, trumpeter Eddie Henderson, and pianist Dave Kikoski all speak highly of him. Nick Russo is clearly a guitarist worth watching."
John Kelman, All About Jazz
"With varied tastes in the field of modern jazz, guitarist Nick Russo covers a wide range. He lovesto interject sensual themes into his work, portraying a romantic vision as well as a consonant landscape that both rest on pleasurable experiences. They're Russo's compositions, and they represent deep feelings."
Jim Santella, All About Jazz
"He has a perfect sense of both harmonic and melodic artistry [he] deals in a realm of strikingly beautiful sonorities and dazzling color as well as glittering shade and delicate tones. Unique. Singular.
Compelling."
George W. Carroll, EJazz News
"Nick Russo's music has the ingredients to satisfy both the fans of Mike Pingitore AND Sanjoy Bandopadhyay."
"The music on this album is universally wide and should appeal to all audiences. Nick Russo is definitely musically ready to be heard."
"Beutiful CD! Nick Russo shows a highly personalized concept and musicianship and the highest caliber. This project demonstrates his great range and scope as both a composer and instrumentalist.
"Nick Russo's music has dozens of dimensions, his guitar threading through them all to tie together an inviting, intriguing, beguiling sound world."
Howard Mandel
"Nick is one of the handful of great young guitarist on the New York scene. i've been lucky enough to work and play with Scofield, Martino, Stern, and Ron Affif among others and Nick steps up to the plate and swings beautifully. I'm sure you will love this recording."
Dave Kikoski
"The first thing I liked about the CD was its diversity. In this day and age that all the compositions have a different sound and flavor. Nick picked good musicians to tell the story of his songs. It's good work."
Harry Whitaker
"Nick Russo's new CD RO sounds great. It has a beautiful mysterious vibe with really nice compositions too. I'd recommend it to anyone. Nick is a unique force in the NY jazz community. Check him out!"
"Nick Russo is a talented and energetic proponent of jazz guitar. This new project is a further indication that his talent is worthy of much recognition."
Ralph Peterson, Jr.
"I am very pleased to be a part of this wonderful album 'Ro' by Nick Russo. Nick is studying Indian rhythmic system with me. It is quite rewarding to see how he has blended some of those elements into his music. The CD is a nice projection of Nick's assimilation of the tradition he is trying to imbibe along with his own modern ideas. That, to me, is the right path to creativity. I wish him all the success he desires to achieve."
"It was a great joy to work on this cd! I really appreciated the hurricane of rhythm and tones that Nick and Miles created on the banjo piece. It put me inside of the time; inside of the music like it's supposed to be!"
David Pleasant, Riddimathon!, Inc.
"Nick Russo's new CD has some really hip twists and turns that work in a very organic musical fashion. Nick plays in the tradition of the great guitarists of yester year (Pass, Wes, Benson) with his own contemporary, wonderful flare. I really love the eastern sound on this disc. He's only going to get better as a recording artist."
"Nick has made great strides in establishing himself as one who is exploring beyond the traditional jazz guitar style. He's searching deeper within himself, giving us some fun new sounds to groove with. Congratulations to Nick and the Plus 11 with a beautiful effort on this CD Ro."