Nick's Music Studio
"Finally found a guitar teacher who provides individualized instruction based on what I know and don't know. I previously depended on my guitar to make music. Nick showed me how to make the music yourself in your head and then find it on the guitar. He has great patience and also answers every question. And, most important for me, he writes out the lesson notes at the end and sends them. Every previous teacher told me 20 things in a lesson and I remembered two. Nick makes sure that every minute of my lesson is given proper attention."
Jazz Guitar Student Jerry F., Aug 11, 2014
Guitarist, Nick Russo, winner of the 2004 International Jazz Workshop at The BANFF Centre in Canada (director, Dave Douglas) & winner of the 2001 JAS academy in Aspen Colorado (director, Christian McBride, mentioned in Dec. 2001 issue of Down Beat magazine). M.A. from the Aaron Copland School of Music at Queens College, Author of Metallica Legendary Licks series, volume 1 & 2), Editor of GRP chords (Cherry Lane Music/Hal Leonard).
A full-time musician, Nick has performed at Carnegie Hall, Lincoln Center, The United Nations, Blue Note, Birdland, Good Morning America, The Big Apple Circus, 55 Bar, Showman's (Harlem), Lenox Lounge (Harlem), Charles Ives Center, Tilles Center, Boom, Penne e Vino, Via Delle Zoccelette, The Patchogue Theatre, Flushing Town Hall, Cleopatra's Needle, Kavehaz, Merchants, The C-Note, The BANFF Centre in Canada, 7 weeks at Huis Ten Bosch (Sasebo, Japan), Omsk, Tomsk, Novasibersk, Akademgorodok (Academy City), and Moscow.
Nick has toured/recorded and/or worked with Jon Batiste (from the Colbert show), Patrick Batley (from the Colbert show), Grammy nominated actress Antonique Smith, Golden Globes winner Rob Morrow, Jimmy McGriff, Teddy Charles, Bill Charlap, Sonny Dallas, Victor Jones and Cultur-versy, Vince Giordano & The Night Hawks, Terry Waldo, Frank Vignola/Joe Ascione, Miles Griffith, David Pleasant, Jim Nolet (former violinist for the Jazz Passengers), Dandy Wellington, Jon Weber, Aurora Nealand (from New Orleans), Anastasia Rene, Mona's Hot Four, Gordon Au's Grand Street Stompers, Michael Arenella's Dreamland Orchestra, with Jesse Gelber, Raphael McGregor, Emily Asher's Garden Party, and many other groups.
Summer of 2013, Nick Russo performed at Gwyneth Paltrow and Chris Martin's home. It was an honor to meet Paul McCartney and jam with him while he played toy harmonica.
"Nick Russo is a fantastic tutor for kids and adults who would like to learn ukulele, guitar, banjo or other instruments. He makes 'learning fun' he's friendly and cheerful. I don't have any background in music but Nick made it easy for me to understand the notes and how it works. I always look forward to every lesson. I highly recommended Nick to everyone."
Ukulele Student Melissa, Apr 2, 2019
With over 30 years teaching experience, Nick is patient with children & adults. He has a creative, unique pedagogy emphasizing hearing through singing, ear-training & natural, organic listening. Nick instills healthy absorption of music while students have fun learning their music, sight reading, internalizing with focus on rhythm and time.
Lessons are always enjoyable as Nick observes each student's unique needs and listen's to their music genre and repertoire preferences and musical goals.
Students have the opportunity to learn pieces and genres they select and they are trained to figure out tunes by ear (ear-training) and transcribe.
Students will also be introduced to method books, reading material, recordings, and other sources of information.
Professionals & Beginners, Adults & Kids can learn:
-acoustic steel string guitar, electric 6 string and electric 7 string guitar
-classical guitar and Brazilian guitar (nylon 6 string and nylon 7 string guitar)
– jazz guitar + an eclectic mix of styles: blues, Brazilian music, Latin Jazz, Afro-Peruvian, Indian music, rock, heavy metal, funk, R & B, Motown, reggae + other genres.
– tenor banjo (traditional jazz, jazz from New Orleans, Dixieland and world music)
-5 string banjo (Earl Scruggs finger picking [bluegrass and country])
-guitar                          -electric bass
-ukulele                       -tenor guitar
-mandolin                    -resonator slide/Dobro.
-drums.                        -baritone resonator (slide)
-piano/keyboards        -harmonium
-composition               -songwriting
-ear-training                -rhythm training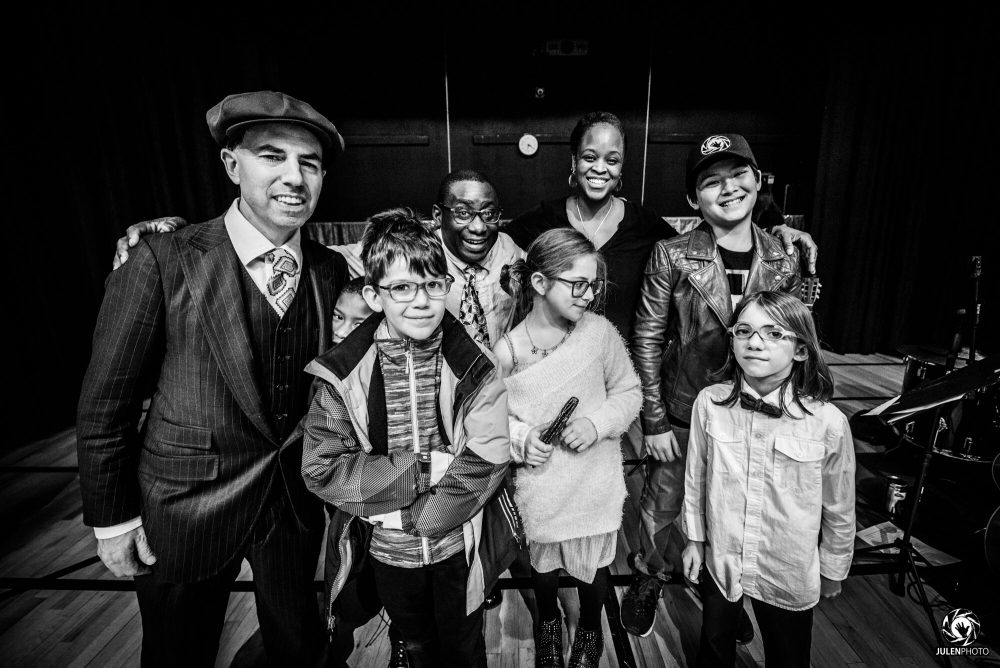 Quotes:
"His approach to improvisation, featuring for the most part a warm Jim Hall-like tone, is flexible enough to feel credible whatever the context. It's no surprise that the likes of Hall, trumpeter Eddie Henderson, and pianist Dave Kikoski all speak highly of him. Nick Russo is clearly a guitarist worth watching."
John Kelman, All About Jazz
"He has a perfect sense of both harmonic and melodic artistry [he] deals in a realm of strikingly beautiful sonorities and dazzling color as well as glittering shade and delicate tones. Unique. Singular.
Compelling."
George W. Carroll, E, Jazz News
"Nick Russo is a talented and energetic proponent of jazz guitar. His talent is worthy of much recognition."
Ralph Peterson, Jr.
"I've been taking guitar lessons with Nick now for a few months and it's been a terrific experience — cannot say enough good things. Each lesson builds on the last and Nick tailors them to my ability and musical interests mixing in enough music theory, which makes learning both productive and enjoyable. Most importantly I feel like I'm beginning to understand how music works and not just blindly memorizing patterns or scales. I considered online courses before choosing Nick, but there's no substitution for one-to-one instruction. Nick's feedback and instruction are invaluable."
Guitar Student Bill, March 22, 2019
"Nick Russo is a fantastic tutor for kids and adults who would like to learn ukulele, guitar, banjo or other instruments. He makes 'learning fun' he's friendly and cheerful. I don't have any background in music but Nick made it easy for me to understand the notes and how it works. I always look forward to every lesson. I highly recommended Nick to everyone."
Ukulele Student Melissa, Apr 2, 2019
"Nick has been teaching my 7 year old guitar for one year now. His excellent, progressive curriculum, patience, and allowing my son to pick some of the music has fostered a joy in his playing and even the work that goes into learning a difficult instrument. My son even "teaches" me a weekly lesson. I couldn't recommend Nick enough!"
Acoustic Guitar, Mother of Student, Sarah M., Mar 19, 2019
"Nick took me on as a banjo student and did an amazing job of quickly finding out how much I already knew and then ran with it, pushing me further while letting me direct us into areas that I wanted to pursue. He's very patient and insanely knowledgable. Every lesson has been packed with a ton of information, practice, instruction and music theory. (He's also a very nice guy to have a conversation with.) I couldn't recommend Nick highly enough as an instructor."
Banjo Student Ramsey, Jan 21, 2016
"Nick was a terrific teacher — very enthusiastic and encouraging. He knows what he's talking about as well. He definitely breaks things down so even beginners like me can follow along and understand."
Ukulele Student Taylor, Feb 3, 2016
"Exceptional musician. Skilled and patient teacher.
I have been taking weekly guitar lessons with Nick for nearly four months now and it has been all I hoped for and more. As a recent retiree and amateur musician one of my goals is to rapidly improve my novice guitar skills. I was looking for a teacher who would push me hard but was willing to work with the particular songs and musical questions that I might bring to him each week. I could not be more pleased. Nick is able to immediately bring his knowledge and experience to any material that I bring to a lesson and he uses it as the basis for a wide range of teaching moments – whether it be technique, harmony, or improvisational approach. What I didn't anticipate was the extent to which his holistic, listening (and singing) based approach to playing an instrument has challenged me. Nick is making me a better musician not just a better guitar player. And it is very helpful that he types out notes on all that we discuss and sends an email following each lesson."
Guitar Student James B., Jan 2, 2015
"I've been playing guitar over 15 years. In my experience, it's very, very difficult to find a mentor like Nick Russo.
Mr. Nick R. is an absolutely great guitar player and music instructor.
I'm a young professional jazz guitarist and instructor and have been taking jazz guitar lessons with Nick R. weekly since September of 2014. Every lesson, I receive a lot of information that I didn't know before and Nick always give me proper quantity and quality of task.
Many ideas, information from his suggestions, including how to practice myself and instruction that goes beyond musical and guitar technique, also including psychological and philosophical concepts from Nick's experience and knowledge. His explanations are incredibly clear and easily to follow.
I truly appreciate meeting him and have tremendous respect for Professor Russo.
Thanks as always Nick!!"
Professional Jazz Guitar Student Koji Yoneyama , Dec. 23, 2014
"You can say that I'm a rookie when it comes to playing guitar. So, I decided to do something about it. I'm taking 45 minutes sessions with Nick and I have to say that he is a really talented a teacher as well as he is a musician. While having fun during the lessons, I rake in so many new tricks up my sleeve. I love his individual approach, flexibility, and creativity just to outline a couple. For the short while that I've known Nick, he's been all, a patient teacher, a talented musician, but most of all he's been an inspiration to me. My goal was to learn to read music and learn how to play the instrument more fluently. But now, the whole world of new and fascinating opportunities opened up to me because of his mentoring and support. Thank you Nick!"
Acoustic Guitar Student Shimun (Sam) A., Nov 23, 2014
"I've taken classes with Nick in a group setting (at Jalopy) and privately, and while I studied guitar as a kid and trombone in school, and I've never had a better music teacher. And I do mean music teacher, not just guitar teacher – Nick's approach is to start with the MUSIC you want to play, not just the guitar as a collection of strings and frets or a series of fingerings to memorize. He's realistic about where people are starting and how much time and energy they have to devote to the instrument with all else happening in their lives (school, work, family, whatever), but he really wants all his students to get better, to learn and progress and love the music like he does, and leads by example of his own musicianship and dedication to the art form. Highly recommended for all levels, all styles."
Guitar Student Tom N., Feb 8, 2014
"Exceptional, musically rich learning!
Nick is a terrific, terrific teacher whose main goal is to nurture my son's love of music and instill the idea that learning to play guitar or drums is not hard, it's unfamiliar and my son has been learning from Nick since he was 7 years old.
I love watching Nick balance solid technique with fun. Like taking a contemporary song that my son loves and teaching him to play a portion of it. Or inviting another student (or sometimes even a professional musician) to sit in on a lesson and jam with my son.
Nick is teaching the whole person, not just their fingers on the guitar. He really cares and I would recommend him to anyone!"
Guitar Mother of Student, Ann, Oct 12, 2013
Contact Nick Russo to schedule your highly personalized lessons.